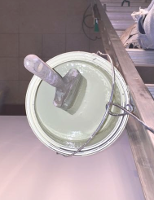 Frequently
Asked
Questions

What brand of paint do you use? I prefer to use Benjamin Moore, Sherwin Williams, or Pratt & Lambert. These are all good quality paints for the price. But, if you have another you'd prefer to use, I'll accommodate your needs.

Will you travel outside of Bloomington? Yes, but it will depend on my availability. And, depending on how far away you are, I may charge an additional mileage fee.

Can you repair large holes in the doors, walls or ceilings? No, but I have a few people I can recommend to do that for you.

What repairs can you fix? Minor scratches, dents or nail holes in the walls, and minor cracks in the walls or ceilings caused by the house settling. When I come look at the work you need done, I will tell you if it is something I can fix.

Do you guarantee your work? Yes. If after the job is completed, you find a mistake I made (runs, streaking in the paint, etc.), I will fix that at no extra charge. If you dink or scratch the wall, or damage the paint after I am done, I will charge you if you ask me to repair and repaint it.

What if I don't like the color? I will be happy to repaint it for you. However, I will charge for the extra time and materials to do so.

Will you move the furniture? Yes. But, the time it takes to do that will not be reflected in the estimate and will cost extra.

Will the final cost ever be more than the estimate you give me? No, unless you decide to change the color, add additional jobs at the last minute, ask me to move furniture or need me to come in and touch up areas that are marred/damaged by you after the job was completed.

Will you install wallpaper? No.

Will you remove wallpaper? No.

Can you provide proof of liability insurance? Yes.